Am 9. Mai 2012 starb Vidal Sassoon in Los Angeles.
In einem Gespräch für die Serie "Voices on Antisemitism" des Holocaust Memorial in Washington D.C. sagte er am 5. Januar 2012:
I was born in Shepherd's Bush, West London, in 1928. And the period of my childhood was very interesting, because Britain never went Fascist or Communist. But antisemitism was absolutely rife. I mean, it was nothing for another kid to say to you, "Dirty Jew." And although England was a good place to be, especially with Churchill and the fight against the Nazis, there was always that sense of the Jews being second-class citizens.
Vidal Sassoon[i] wurde als Teenager Mitglied der 1946 gegründeten legendären Group 43 in London, einer antifaschistischen jüdischen Straßenkampfgruppe, die englische Faschisten und Nazis um Oswald Mosleys Schwarzhemden bekämpfte.[ii]
1948 kämpfte Sassoon als Soldat des Palmach im israelischen Unabhängigkeitskrieg im Negev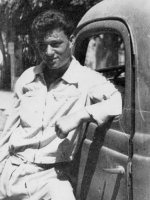 , in den 1960er Jahre avancierte er zu einem der weltberühmtesten Frisöre – unter anderem wegen des (geometrischen) Kurzhaarschnitts bei Frauen –,
und 1982 gründete er an der Hebräischen Universität Jerusalem, in der Hauptstadt Israels, das bis heute berühmteste und beste Forschungszentrum zu Antisemitismus, das legendäre
Vidal Sassoon International Center for the Study of Antisemitism (SICSA).
---
[i] "Vidal Sassoon – hero of the Jewish people", Dennis Wilen, JewishJournal.com, 14.04.2008, http://www.jewishjournal.com/bloggish/item/vidal_
sassoon_hero_of_the_jewish_people/ (14.05.2011).
[ii] "How King of Crimpers Vidal Sassoon cut Britain's fascist thugs down to size", Andrew Roberts, Dailymail, 14.04.2008, http://www.dailymail.co.uk/news/article-559709/How-King-Crimpers-Vidal-Sassoon-cut-Britains-fascist-thugs-size.
html#ixzz1MH5SJFIi (14.05.2011).